Bankhead, Jones and McKinley Are Proud of Their Supporters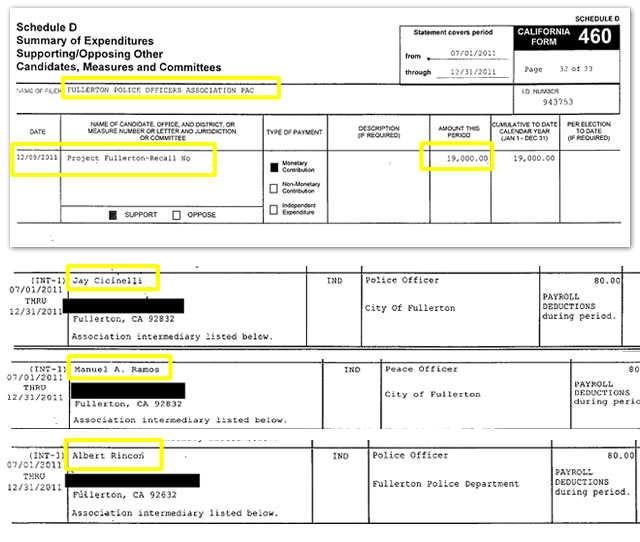 The Anti-recall squad is boasting of its broad range of fundraising support, including developers, city contractors, and the police union. Naturally the Fullerton cops have given liberally to the defense of the Three Dithering Dinosaurs – a whopping $19,000 last fall. If you peruse the FPOA's Form 460 you will certainly discover some familiar names. Names like Goodrich, Mater, Tong, Hampton, Nguyen, Mejia, Power, Siliceo, Coffman, Blatney, Craig, Thayer, Wren and other by now familiar characters who have a vested interest in supporting the sclerotic regime that has permitted a Culture of Corruption at the Fullerton Police Department.
But the names that really jump out at you are serial sex pervert Albert Rincon, and the two goons, Manny Ramos and Jay Cicinelli, who have been charged with the murder of Kelly Thomas. I don't know about you, but I would just feel ashamed having those names on my list of supporters. But apparently shame is not an emotion experienced by Mssrs. Bankhead, Jones and McKinley . These fine gentlemen say they are proud to be supported by law enforcement.
Well, I predict that they are going to come to regret that pride.