An Important Message From Sylvia!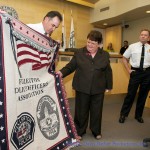 The Boys in The White Van have just intercepted this vital communication from former Fullerton Spokesholetress, Sylvia Mudrick to a whole gaggle of Old Guard acquaintances. Hmm. The Bushala Three? Right on! Check it out:
Hi – I have a big favor to ask!  As you probably have heard, at the Aug. 7 Council meeting, the Bushala  Three, encouraged also by Shawn Nelson, will direct Joe to get a quote from the Sheriff's Department to take over law enforcement in Fullerton.
I'd like to ask you to – if you agree with keeping the FPD – contact
people on your email list and ask them to either call (714-738-6311), email ([email protected]), or attend the meeting to voice opposition to the Sheriff being asked to take over the city.
Nothing is to be gained by bringing the OCSD on board, while much
would be lost – less manpower in the field and lack of the FPD's familiarity with the city and its people.  Also, the OCSD has had its own hefty share of controversies.
I've never felt compelled in my nearly 27 years with the city to send
out this kind of appeal, but Fullerton is in a dire situation and needs help.  Hope you agree with the urgency here.
Thanks so much!
Sylvia Mudrick
Interesting that Sylvia thinks nothing is to be gained by gathering information about police service costs. But this sweet lady probably never cared a whit for the people that were paying her own inflated salary and benefits during her 27 year stint with the City, as she peddled mindless PR pabulum to the likes of Lou Ponsi and Barbara Giasone.
Well, we here at FFFF  believe that knowledge is power, and that the City Council would not only be remiss, but would be derelict in the duty to the citizenry if they didn't explore options and collect information.