Watch Your Wallet: The Paramedic Sneak
Update: It's that time of the year again. Don't forget to deduct the optional $42.00 "crash tax" from your Fullerton utility bill this month.
Don't forget, this is the month in when an optional Paramedic Fee is automatically added on to your Fullerton water bill. Look closely and you'll see that the city squeezing the optional charge into the total amount due, which seems a little sneaky. Subtract $42.00 from your total before you make your payment to opt out of the program.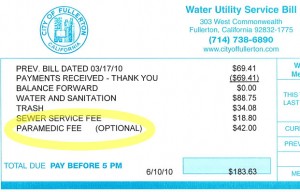 According to the city website, paramedic visit charges range from $250 to $500 and are sometimes covered by your health insurance. Unless you fall down a lot, specific risk coverage for relatively minor expenses such as these are usually not a good investment.