Uh Oh. Is the DA's Investigation in the Hands of the Chief's Good Buddy?
We may have figured out why it took the District Attorney investigators three weeks to start talking to witnesses on the Kelly Thomas police beating case…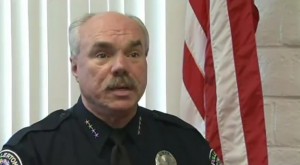 According to this unsigned note that just came in to our website, Chief Sellers is a close personal friend of DA investigator Stan Berry, who was immediately assigned to the high-profile Fullerton case:
I suggest you check into the connection between Investigator Berry and FPD Chief Sellers. Sellers hired Berry when he was the Chief at Seal Beach PD. Sellers and his wife Rita Fraser-Sellers, are close personal friends with Berry and his wife, Kristen Berry, the Dispatch Supervisor in Seal Beach. They socialize together, vacation together and entertain each other in their respective homes.

Of all the DA investigators, why choose Berry, other than he will help cover for his friend.
Presumably that case assignment was a decision made by the DA Tony Rackauckas. I have confirmed that Berry worked as an investigator under Chief Sellers for the Seal Beach Police Department.
As for as the familial socializing, entertaining and vacationing together…maybe the Chief can clear that one up for us.
If our informant is correct, this would be a huge conflict of interest in a very high-profile investigation.