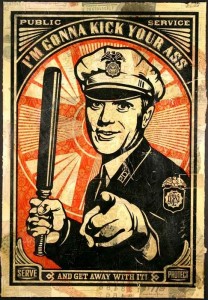 We all know there's laws for us and there's laws for cops. The sort of stuff Fullerton Police Department members have been busted doing lately, or accused of in court proceedings would land you or me in jail. For a long time. It's hilarious to listen to the FPD apologists bemoan the "lynch-type mob" of protesters that want answers before the official cover-up, er, investigation is over, thus denying our fine officers "due process."
The latest example of the double standard that exists is the revelation that the Kelly Thomas killers were permitted to view (and review, and review again, one surmises) the taxpayer-owned video that shows the killing. This is just fine and dandy according to interim Chief Kevin Hamilton because it helps our boys in blue refresh their memory as they cook up and orchestrate plausible accounts of what they did. But it is not okay for for the public to see the video because it might color the recollections of eye-witnesses!
The same crapola is going on with the request to hire one Michael Gennaco to come into Fullerton and have a look around. Forget the fact that this is going to end up costing the taxpayers the better part of $100K. The real issue is why the City is embarking in this direction when the so-called investigations by the FPD, the DA, and the FBI are ongoing!
We are not permitted to seek answers while these alleged investigations are ongoing, and yet the Three Blind Mice (hopefully Whitaker and Quirk-Silva are smart enough to vote no) are willing to instigate yet another "investigation" at the same time.

It seems very clear to me that the Gennaco hiring, and the attempt to make it appear as both an emergency and some sort of reform action is nothing but a PR gimmick to make the City look like it is finally doing something proactive in the wake of the Kelly Thomas homicide. Of course it's nothing but a cheap trick to try to stem the tide of public relations disasters that have befallen Fullerton since the image of Kelly's battered face and crushed neck went globally viral.