The 2011 Fringies® Are Here! Dumbest Thing Said By A Politician
Sweet, iridescent, radioactive Jebus, how can one choose from such a wealth of material? 2011 may never be surpassed for dumb stuff uttered by our representatives. The Nominating Committe ruminated long and hard to come up with the nominees. And by ruminating long and hard I mean they did major bong rips into the wee hours. And speaking of wee, here are your nominees.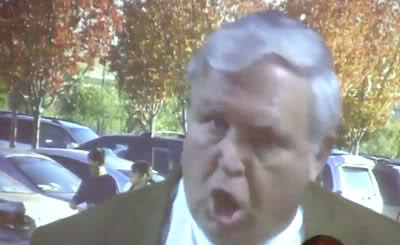 1.You want dumb? How about when Doc HeeHaw exclaimed that he had seen far worse injuries than Kelly Thomas' in 'Nam that were survivable?
2. And then there was this pearl from F. Dick, likening the peaceful Kelly Thomas killing protesters to "a lynch-type mob." Ouch.

3. The Nominating Committee insisted that King Don Bankhead the First be recognized for the idiotic statement that Fullerton would "biterally" be a ghost town without Redevelopment, and then lying about having said it! Oops! Caught on video!
4. Not to be out done by his superannuated colleagues, the comparatively spry  Pat McPension uttered perhaps the stupidest and most odious comment of all, when, after noting he had gotten "bloused" eyes himself, claiming that Kelly's facial injuries were not life threatening.
5. Then, of course, there was the breathtakingly stupid utterance at the Soroptomist She Bear Pow-wow that left everyone speechless, essentially insinuating that perv-cop Albert Rincon's victims deserved what they got, and in any case sexual battery by a cop "ain't a dangerous thing."  Well, actually, hardly anyone was speechless after that.
6. And finally, to round out our nominees, the committee just couldn't overlook the predictably irrelevant observation from councilwoman Sharon Quirk-Silva that homeless people really need socks. Yes, Sharon, they probably do, and many other things, besides. But they would also appreciate not being beaten to death for no reason by your police force, if it's not too much trouble.
Well Friends, them's yer nominees in this all-important Fringie® category. Feel free to opine in the comments thread, as always!