On August 29th, 2010 at 4:28 am a three-alarm fire was reported in a building structure with six businesses at 306 N. Raymond Ave. About 80 firefighters from the Fullerton Fire Department, Brea Fire Department, Anaheim Fire Department and the Orange County Fire Authority were dispatched to bring the fire under control.
Fullerton Fire Marshal Julie Kunze told the Register "The structure itself is a total loss. We're estimating the structure itself at probably $2.2 million with unknown content."
The fire department has taped off portions of the parking lot, as charred debris covered the ground around the badly burned building. The roof had completely collapsed.
That was six months ago. Today the charred building is still charred and the site is now a real eyesore. How long should it take for the city to issue a notice to abate the public nuisance?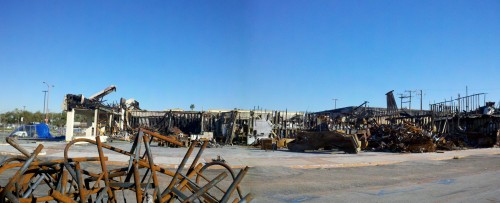 If this mess were in Sunny Hills, would it be any different?