Rackauckas' New iPhone App Wants to Track You Down
With much hullabaloo, the OC District Attorney's PR machine announced the first mobile application "ever launched by a prosecutorial agency." A dubious use of taxpayer dollars, sure. But there's more to this app than just Rackauckas' duplicitous grin.
An FFFF staffer who installed the T-Rack app immediately discovered an alert indicating that the DA was seeking out his current location via GPS and cell triangulation. Hey, that's pretty creepy!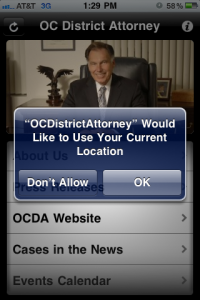 Of course, the irony of the DA's mobile intrusion is not lost on FFFF. Remember when his bumbling prosecutors couldn't manage to track down Supervisorial hopeful Harry Sidhu after he lied about his residence at the lovely Calabria apartments in Anaheim? We even got real Private Eye to gather the evidence and draw him a map. It was a slam dunk.
But even with the goods sitting right under the prosecutor's nose, Anaheim's craftiest carpetbagger still managed to elude justice… at least until the voters finally caught up with him.
Back to the app: I'm not sure what the DA really had in mind with this little gimmick, but experts generally agree that it's best to keep The Man as far away from your cell phone as you can.