Another Federal Lawsuit Filed Against FPD
Attorney Garo Mardirossian followed through with his promise yesterday, and now Fullerton is facing a new federal lawsuit from that guy who was wrongfully arrested for filming the police last year.
The suit alleges that Officer Kenton Hampton wrongfully assaulted Veth Mam and that officers Jonathan Miller, Frank Nguyen and Daniel Solario falsified police reports in an attempt to convict Mam for an assault against a police officer that he did not, in fact, commit.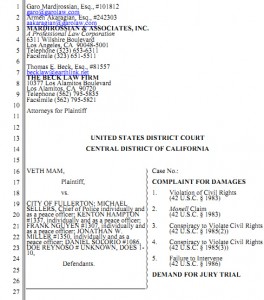 The DA and the FPD had attempted prosecution of Mam earlier this year, despite viewing this video of the event which completely conflicts with what the officers wrote in their reports. A jury has already sided against the FPD and determined that Mam was innocent.
Chief Sellers is also named in the suit for willfully refusing to discipline or hold accountable any of his officers for felonies they allegedly committed against Veth Mam. He is also accused of allowing his department to "cover up acts of misconduct and abuse, " that he "sanctioned a code of silence by and among officers," and that the FPD "threatened, intimidated, demoted and fired officers who reported acts of abuse by other officers."
Mardirossian says that if Chief Sellers had taken appropriate action against officer Kenton Hampton (one of the officers involved in the death of Kelly Thomas) at the time, Kelly Thomas might still be alive today.