The Great ARTIC Melt Down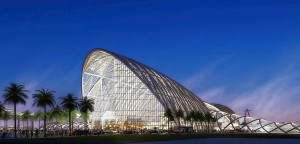 According to an article in today's LA Times here, the cloudy jewel in Anaheim's ex-mayor-for hire, Kurt Pringle's tarnished crown, ARTIC, may not be eligible for $99 million in special Measure M funding. The money had strings attached. However those strings seem to have come loose.  And by loose I mean really loose. You see, "Project T" Measure M funds can only be used to "expand" existing stations to accommodate high-speed rail, not build new ones that don't.
So far the OCTA has pitched over $40,000,000 bucks into this glorified bus station and at this point nobody can show that the high-speed rail choo-choos can even get to it; or that high-speed rail will ever even come to Anaheim. Of course the City of Anaheim (that isn't paying for any of this) is now saying ARTIC is a "stand alone" facility, which is great, but it ain't what the voters approved back in 2006: a stand alone facility doesn't qualify for the $100,000,000 (yes, you read that right) Project T funding.
The hot light of public scrutiny is bound to have interesting environmental effects. The great ARTIC melt-down begins this morning at an OCTA Transit Committee meeting, where newly re-elected Supervisor Shawn Nelson is going to ask members to start reflecting upon their complete lack of responsibility in funding this Pringledoggle.