If you're Anaheim's outgoing Mayor-for-Hire, Curt Pringle, the answer is: very. We got hold of this flier that advertises a big tribute to Pringle that will undoubtedly tout his Integrity, Leadership, and Vision.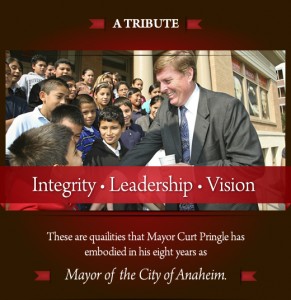 We already know more than we need to about those alleged Pringle attributes as we have vividly and abundantly documented in our pages how Der Pringle has managed to insert his grubby little fingers into just about every pie in OC, most prominently the Platinum Triangle Tragedy, The Great ARTIC Ripoff, the HSR Boondoggle, and even how he's swung peculiar gigs shilling for Rob Reiner's Children and Families Commission and even the OC Cemetery District.
———- Forwarded message ———-
From: Bryan Lang <[email protected]>
Date: Mon, Nov 8, 2010 at 4:24 PM
Subject: Anaheim Mayor Curt Pringle Tribute Event
To:****@*****.***
What's really funny about the upcoming tribute to Pringle is that it is being organized by…Pringle himself! And if you respond to one of Pringle's flunkies you can join in the party celebrating the Integrity, Leadership, and Vision that Pringle has embodied in his eight year Reign of Profit.
Most of us would feel a little bit awkward celebrating our own Leadership, Integrity, and Vision; apparently the flier left off Pringle's Humility. Well, we'll take care of that. And the experience will be humbling.