Harry and The Dems; or #2 Goes To The Zoo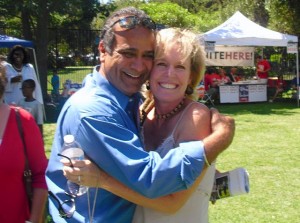 Now that only the worst repugs still support his torpedoed campaign for 4th District supervisor (a district in which he doesn't live), Hide and Seek Harry Sidhu seems to have decided that chumming it up with Democrats is his only prayer. Seems he even went so far as to attended the big Democrat Labor Day bash at the Santa Ana Zoo.
While Harry Sidhu was at Zoo, whooping it up for California's #1 union stooge Jerry Brown, as reported by the Orange Juice blog here, he also happened to run across Pam Keller. Poor Harry selling his soul again just to get elected. Jeeze, this guy would do just about anything to be a political somebody. Will he re-register as a Democrat? Why not?
Well I hate to pop your bubble, Hide and Seek, but people can see right through your transparent BS, fake residences and all. All they can see is Sidhu the assclown.