FFFF Welcomes "Inside Fullerton" to the Blog Roll
What's going on tonight in Fullerton? I have no idea. But these guys do: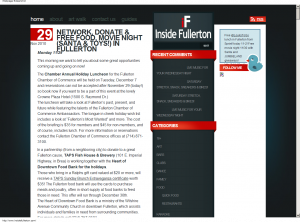 Inside Fullerton is a new website that posts the latest happenings in Fullerton's restaurants, bars, shops, theaters and everywhere else you can think of.
The site seems to update once or twice a day. That's quite a lot of work. In fact, there's only one other Fullerton site that can pull that off, and it's us!
Welcome to the world wide web, Inside Fullerton.