CSUF Going Way Out On Limb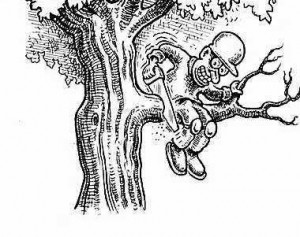 We just received an e-mail from a young Friend, directing our attention to a story in the CSUF Daily Titan about the university trying to go ahead with the acquisition of the Hope University campus across Nutwood Avenue. We've been documenting the damage already done to mid-century architecture in the area and of course noting that the buildings on the Hope campus are architecturally significant – and would be demolished by CSUF.
According to the article funding would come from the sale of bonds. $30 million will be needed to close the deal. But of course the university employee cited says nothing about how the bonds are to be paid for. It seems that the school's debt service ratio is already crappy – they've been spending like drunken sailors over there and their credit card is maxed out. Can anybody forget the debacle of the "University Heights" housing fiasco, here, and here? That didn't help, either.
With the State budget cuts they've had to cut enrollment, and so student fee revenue is down.
And speaking of fees, it also seems as if the recent increases in fees and tuition have a lot of students pissed off, and using their dough to help swing future expansion that's years off is going to rub a lot of people the wrong way.
So will the CS Chancellor's office nix this massive added liability? Let's hope so. CSUF President Milton is on clueless cruise control. Somebody needs to behave responsibly – and soon.