The West Harbor Alley Improvement Project
The other day I took my elementary-age children to Cafe West for a cool drink, and found this postcard on the counter: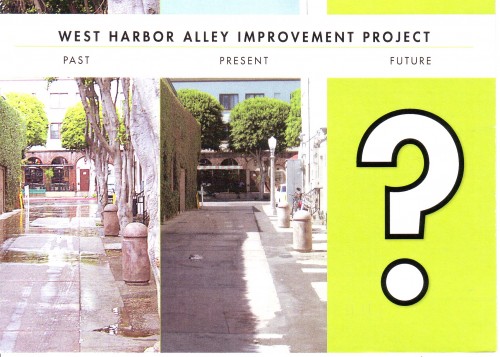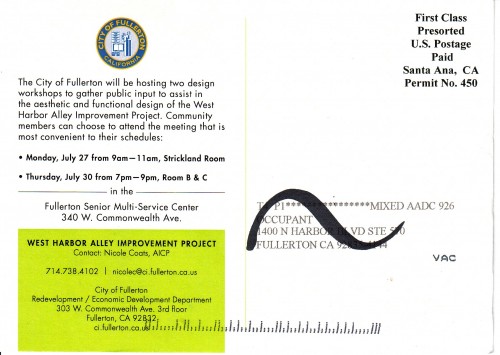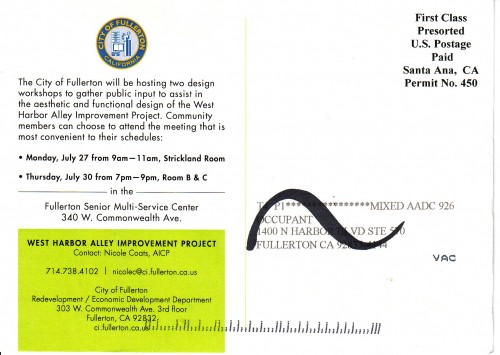 The triptych above seems to reflect a strategy all too common in the city:
Phase #1: tear out trees (and put in a subsidized fire line for the "night clubs")
Phase #2: fill holes with temporary asphalt
Phase #3: ask questions later
To most of us, this would seem a bit like putting the cart before the horse, but one has to wonder if the RDA sees it that way.
What's the mystery here? For goodness sake, this is just an alleyway, all they've done is yank out a few trees!  What kind of "design" is required here? Talk about making a mountain out of a molehill!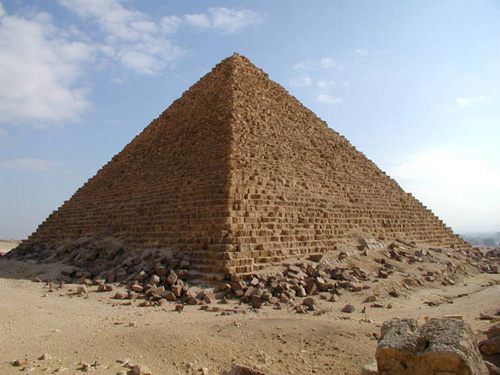 My own kids provided some helpful suggestions as to what to do with the freshly vacated space in the alley. One of them thought a modern sculpture would be appropriate, while the other mused that perhaps another luxury apartment complex could be squeezed into that tiny space. Hey, where there's a will, there's a way.
However, given Fullerton's recent trend of rolling out the red carpet to the bar scene, perhaps a European-styled "pissoir" could not only provide a visually attractive option, but one that's functional as well.
True, a few fumes may greet the occasional pedestrian walking through the alley, but this would be one project the RDA could actually claim where form follows function.