Redevelopment Sidewalks: Adding Futility To The Simple Pleasure of Walking
Several Friends have recently asked that we share with you our Loyal Readers some images of the ridiculous Redevelopment sidewalks in downtown Fullerton. The question that comes to mind is: what sort of ninny would design something so impractical and expensive, other than a Redevelopment bureaucrat, of course; and why?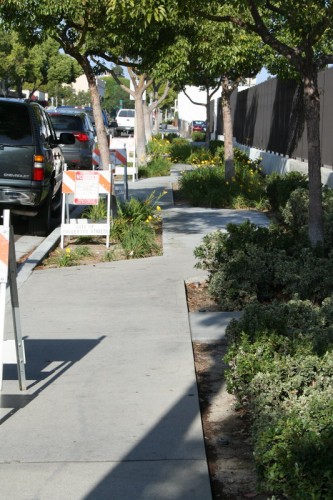 Discovering the answers to the questions posited above is actually intriguing if you are the sort of person who is interested in the study of the abandonment of critical thought in homo sapiens. People who like this sort of sidewalk have made the foolish and perhaps even unwitting mistake of jettisoning simplicity in the confused belief that anything that is more complicated – in this case a broken versus a straight line – must be an aesthetic improvement. Others have seen in these pointless meanderings an aesthetic "softening" that comes when you replace the rectilinear with the curvilinear (although please note that ours aren't even curvilinear) a weird idea that can trace its legacy way back to the anti-grid urban movements of the late Nineteenth Century.
F. Paul Dudley, former Director of Development Services (and prominent member of the $100,000 retirement club) once defended his knee-jerk support for these practical monstrosities by taking a different tack, but one guaranteed to win the hearts and minds of ponder-free tree boohoos. He claimed that these zigzag paths actually increase the area available for landscaping next to buildings downtown. Wrong!  As any 10th grader taking geometry knows, a straightline is the shortest distance between two points. If you increase the length of a sidewalk through pointless meandering, you necessarily increase the amount of concrete needed to build it. Increase the concrete and you necessarily decrease the amount of adjacent area available for landscaping! That's pretty simple. Well, this is Fullerton, after all, but still, you have to wonder how Dudley managed to hang on to his job for so long.
Finally we have to wonder what it's like for somebody in a wheelchair to have to negotiate these sidewalks.
FFFF's tip of the day: If you walking somewhere in downtown Fullerton, remember to budget some extra time because it will take you twice as long to get where you are going.
(images thoughtfully provided by Travis Kiger)