Oops! Is it Really All That Difficult?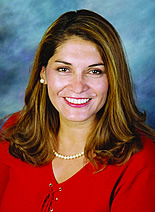 Hey who is in charge over there at City Hall? Doesn't anybody have a clue?
At their September 15, 2009 meeting, the Fullerton City Council deliberated over whether or not the Fullerton School District could get a two-year pass making annual payments on a $1,320,000 loan the District had received from the Redevelopment Agency for the renovation of Maple School nine years ago.
Without debating the merits of the proposal, we note that the suspension of payments was approved 5-0 by the City Council.
But wait! Both Sharon Quirk-Silva and Pam Keller are employees of the School District, and have no business voting on issues, especially financial issues, in which their employer is involved. If ever there were a case for recusal, this was it. At the meeting Mitch Hovey the Superintendent of the Fullerton School District was in the audience. Imagine that! You're voting to defer over $50K in loan payments to the operation you work for and your boss is sitting in the front row! Hmmm. No bueno!
 We can't imagine why it didn't occur to either Keller or Quirk-Silva that there was an evident conflict of interest involved. Perhaps it never occurred to them because they see the District as some sort of charity, and doing favors for charities can't possibly undermine the fiduciary responsibility that they have to the City of Fullerton. It's all about the children, after all. But we merely speculate. Who really knows why they voted?
And even more baffling is why Richard Jones, the City Attorney failed to bring up this problem. Attorney Jones is paid, and paid a lot, to keep these meetings on the up and up, and keep his charges out of trouble, in loco parentis, as it were. Hmmm.
And finally we reserve a separate post for the performance by Mayor Don Bankhead, who really outdid himself on this item