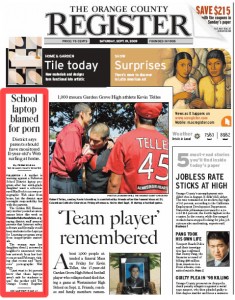 Occasionally we hear of local politicos who attempt to downplay the effectiveness of our efforts here at FFFF, claiming "nobody reads the blog" (while feverishly checking it themselves). Despite our hurt feelings, we have continued our daily blogging efforts to bring long-missing accountability and reason to this city.
Last week alone this blog had 8,228 hits. To put that in perspective, Pam Keller spent a year campaigning in 2006 to come up with 10,494 votes, beating out candidate Leland Wilson by a mere 628 votes.
Further evidence of our influence can been seen in our ability to garner coverage from conventional media outlets. Exhibit A is on the front page of Saturday's OC Register – our continued efforts to expose the dangers of Fullerton's school laptop program will also be recognized by the LA Times later this week.
Nobody reads the blog?
8,228 hits in a week. That's a whole lot of nobody.