Mike Carona's Not Cheap Lawyers Threaten FFFF!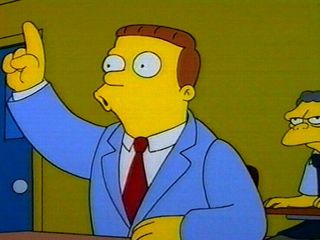 Last night we received an e-mailed letter from Jones Day, the same lawyers that miraculously worked on convicted criminal ex-Sheriff Mike Carona's defense for free.
The letter demands that we remove the post we published about KCAL's Dave Lopez pursuing a story concerning a former Mike Duvall associate at Linda Ackerman's October 20th fundraiser at the Summit Inn.
Our post was about an event that occurred within Fullerton, our city. It's on film. Thousands of people have seen it on television. It indisputably happened. It was of particular interest to us since Mr. Lopez also interviewed us at our protest at the site of the fundraiser; this fact was clearly related in the very first sentence of the post.
The post made it very clear that the behavior ascribed to the individual in question was merely alleged. We did not claim that it was true, since we did not know. Therefore Jones Day's second demand – that we publish a retraction averring the falsity of the allegations – is a logical absurdity since we have no way of knowing that the allegations are false, either. We presume credible allegations were actually made since this story was aired by a reputable news operation.
But we will say this: the subject in question and her lawyers categorically deny the allegations reported by KCALs Dave Lopez.
This appears to be nothing more than a little intimidation orchestrated by Ackerman, Inc. itself, to keep people in Fullerton from knowing things that happen in Fullerton – much like the rest of  phony "Ackerman for Assembly" campaign. Is it merely a coincidence that the guy whose name on the Jones Day correspondence is an Irvine lawyer who just happens to have been at The Hastings School of the Law at the same time as Ackerman? Hmm.
We have caused nobody "serious and irreparable harm;" we have defamed nobody. If KCAL determines that this story has no basis and no merit then we will be happy to relate that, at the appropriate time.