Downtown Fullerton: The Brick Myth, The Reality of Brick Veneer, and The Legacy of Schlock
We published a couple of posts a few days ago on the new parking structure planned on Santa Fe Avenue, and how it is proposed to be faced with brick veneer here and here .
You may remember that I got to thinking about why the city staff would tell the RDRC that the $40,000,000 parking structure must have brick veneer; and that I asked one of the RDRC Board members that very same question, and the answer I got was that staff told the Committee that the City has to use brick veneer because it was a "State" requirement to meet the CEQA guidelines. (I also noted that the use of fake brick is in complete contrast to the sustainable design the General Plan Advisory Committee has spend the last 3 years discussing and recommending to the City Council).
CEQA? Yes CEQA he said, because there's a provision in the CEQA guidelines that requires mitigation of any visual impacts. In other words, since the new parking structure was being built with structural concrete, and the surrounding downtown has many brick-looking buildings, using the brick veneer would cause no visual impact on the environment. I say "brick-looking" because so many of the buildings in downtown Fullerton are faced with fake brick veneers, facades that are not historic, and some of which, in fact, were stuck-on older buildings during the course of Redevelopment in the last 30 years. And many of these were subsidized by the taxpayers of Fullerton.
How do I know this? I did a building facade survey of downtown from the RR tracks to Chapman and from Malden to Pomona. I documented the principal "building skin" of each structure. The results didn't surprise me, but they may surprise you; they should shock the Redevelopment and Planning Department "experts" who not only have been tolerating, but actually promoting this material over the years – seemingly in an effort to keep downtown "historical" looking. Boy, did they get it wrong.
Here are the results of the survey:
24 Brick veneer
2 Flagstone veneer
9 Real brick & clay block
3 Glazed & fluted brick
24 stucco & plaster
20 Concrete, concrete block & terra cotta
And here is a useful overhead image with the various exterior materials colored in on each of the building's footprint. Notice how few real brick buildings there are; and of these only a couple are red brick – the crap of choice among Fullerton's bureaucratic tastemakers. The buildings with substantial brick venerers are pink.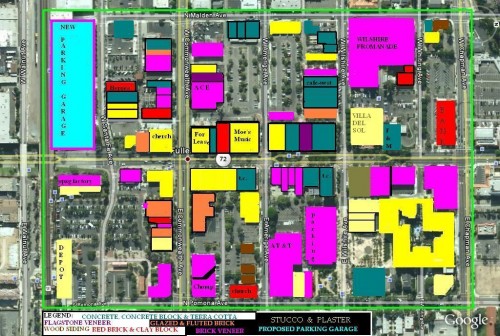 Using CEQA to bolster the poor design choices of the past is pretty bad. Let's hope this post will help end the travesty of bad and cheap looking architecture based on erroneous assumptions, and that California's environmental laws will never be used again by city staff to foist this garbage on us.