A Tsunami of Slime Is Coming
Lest anyone believes the special election to replace scummer Mike Duvall in the 72nd Assembly seat will be a model of decorum, we will disabuse them of that misconception right now.
Chris Norby can run on his political record – because at least he has one. His principal opponent in the GOP primary, Linda Ackerman, has no record other than being married to the once-powerful, and still venomous Dick Ackerman, and she doesn't even live in our district. But the Ackermans have an ally.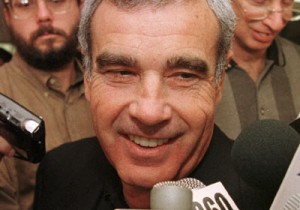 That ally is named Ed Roski. Never heard of him? Roski is a hyper-wealthy LA real estate guy (Majestic Realty) and virtually controls the City of Industry as his personal fiefdom. The City of Industry is the single biggest Redevelopment scam in the history of California, and Roski's latest big idea is to steal a professional football team – the San Diego Chargers were a likely target for a move northward – to a new stadium at the confluence of the 57 an 60 freeways. Since Norby has openly attacked the phony City of Industry and the NFL theft,  he has incurred the wrath of Roski, so the story goes, who is supposedly as vindictive as he is rich. In other words a perfect playmate for Dick Ackerman.
According to local political theorists, the plan is laid. The Ackermans keep their South County hands clean vis-a-vis Norby, and continue to show up at Central Committee meetings with smirks and innocent shrugs; and Roski does the dirty work on Norby. Nice folks, huh?
Well, get ready, Friends. Absentee ballots are mailed out in a couple weeks. A tidal wave of slime is on its way.