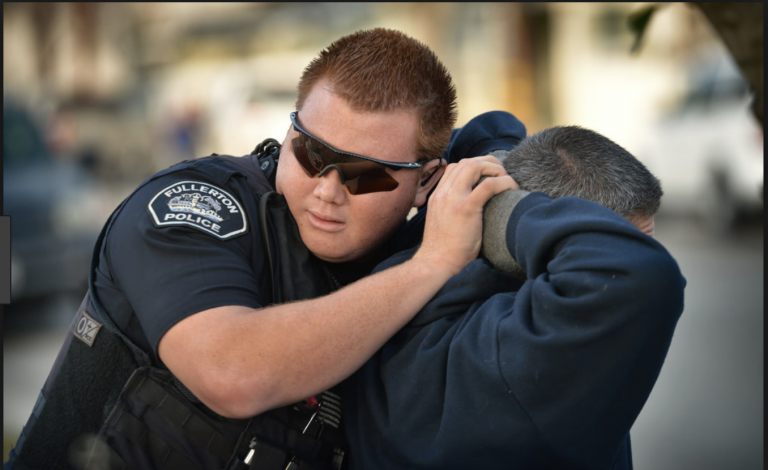 Something untoward may have been happening at Fullerton High School and the entire community appears to have been once again kept in the dark.  Your children may have had their privacy invaded & may be the victims of somebody they were told to trust.
We've received what looks like part of a Body Worn Camera audit and it shows some very questionable information.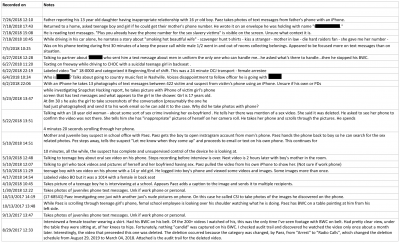 Highlights are as follows (emphasis added):
Father reporting his 13 year old daughter having inappropriate relationship with 16 yr old boy. Paez takes photos of text messages from father's phone with an iPhone.

Returned to a home, asked teenage boy and girl if he could get their mother's phone number. He wrote it on an envelope he was holding with name "***".

Texting on freeway while driving to CHOC with a suicidal teenage girl in backseat.

With an iPhone he takes 13 photographs of text messages between 422 victim and suspect from victim's phone using an iPhone. Unsure if his own or PDs.

While investigating Snapchat Hacking report, he takes picture with iPhone of victim girl's phone screen that has text messages and what appears to the girl in the shower. Girl is 17 years old. At 8m 30s he asks the girl to take screenshots of the conversation (presumably the one he had just photographed) and send it to his work email so he can add it to the case. Why did he take photos with phone?

Talking with an 18 year old woman – about some sort of sex crime involving her ex-boyfriend . He tells her there was mention of a sex video. She said it was deleted. He asked to see her phone to confirm the video was not there. She tells him she has "inappropriate" pictures of herself on her camera roll. He takes her phone and scrolls through the pictures. He spends 4 minutes 20 seconds scrolling through her phone.

Talking to teenage boy about oral sex video on his phone. Stops recording before interview is over. Next video is 2 hours later with boy's mother in the room.

Talking to girl who took videos and pictures of herself and her boyfriend having sex. Paez pulled the video from his own iPhone to show her. (Not sure if work phone)

Takes picture of a teenage boy he is interviewing at a school. Appears Paez adds a caption to the image and sends it to multiple recipients.

Takes photos of juveniles phone text messages. Unk if work phone or personal.

(17-68541) Paez investigating one juvi with another juvi's nude pictures on phone. On this case he called CSI to take photos of the images he discovered on the phone.

Interviewed a female teacher wearing a skirt. Had his BWC on his belt. Of the 200+ videos I watched of his, this was the only time I've seen footage with BWC on belt. Had pretty clear view, under the table they were sitting at, of her knees to hips. Fortunately, nothing "candid" was captured on his BWC. I checked audit trail and discovered he watched the video only once about a month later. Interestingly, the video that preceeded this one was deleted. The deletion occurred because the category was changed, by Paez, from "Arrest" to "Radio Calls", which changed the deletion schedule from August 29, 2019 to March 04, 2018. Attached is the audit trail for the deleted video.
Make of all of that what you will but quite a bit of it seems like questionable behavior at best.
It is interesting that Officer Paez was able to delete files from the system by changing categories. It would be enlightening to know how often this happens at FPD. That there seems to have been no oversight on this process up this point is problematic to say the least.
Fullerton Officer Jose Paez may or may not be with the Fullerton Police Department anymore, we've seen no confirmation either way, but we do know that he was a School Resource Officer (SRO) at Fullerton High School.
This is confirmed though an March 2, 2017 article in the Fullerton Union High School Tribe Tribune.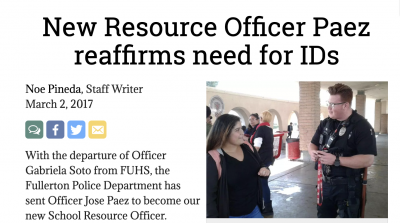 We also know that this status as an SRO is no longer current based on FPD's website about the School Resource Officer program.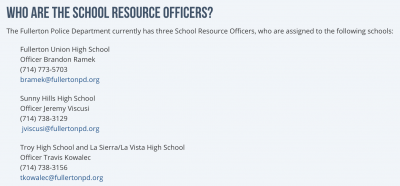 I understand the premise of innocent until proven guilty, but unfortunately, Fullerton PD does not — as they parade names and faces on social media to brag about their arrests while they themselves hide behind the Police Officers Bill of Rights and other such laws. I'd love to give officers the benefit of the doubt but they, through their unions, fight tooth and nail to stop disclosure of criminal acts amongst their brothers and sisters in blue, and enough is enough.
It's possible that Officer Paez did nothing wrong and I'll leave that up to the readers to demand answers from City Hall, Fullerton High School and FPD. It seems inappropriate at best to be using a Body Worn Camera to potentially video record under a teacher's skirt, under a table, or taking screenshots and photos of underage nudity on a phone that might not even be department-issued.
It should be remembered that just a few days ago I showed Christopher Wren was terminated, partially, for having a nude photo of himself on a department-issued phone. Now square that with the above. I'll share more as I know it and hopefully somebody can demand and get answers as to what is going on over at FPD and City Hall.