Late last year three downtown properties along E. Amerige Ave. were purchased for $1.3 million by a trust named after one Richard Jones and what is presumably his wife. Hey, that's the same name as Fullerton's long-time city attorney of the firm Jones and Mayer.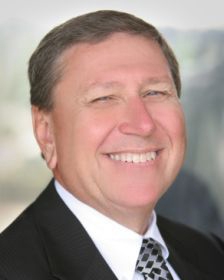 Yes, it's the same guy. He bought these three lots for $1,300,000 last last year. That's a $100 per sq ft, which is kind of pricey for bare dirt. Fortunately the property also contained two old homes. Which one is Dick moving in to?
He never had a chance. Last week a Friend noticed that the two homes had quietly been bulldozed and the 1/3 acre lot stood bare. In preparation for what, we don't know.

What we do know is that Attorney Jones has been hankering to build some high density commercial property somewhere near downtown. We also know that these properties are in several special parking districts, which means that Dick may be able to erect a structure that forces the burden of parking onto his neighbors or on to public lots and streets, exacerbating Fullerton's parking problems.
Now that Dick is ready to build up, will years of swapping favors for city staff and kicking up dust to camouflage the city council's failures finally pay off? We already know that he has no problem ripping off his clients for millions of dollars in unearned pensions. Are there any more ethical lapses or conflicts of interest looming alongside Dick's road to riches? We'll find out.