Bulls**t or not, Josh Newman got crushed by the voters in the mid-term primary which is currently sitting at nearly 60/40 in favor of Recall (though the totals will change slightly). Newman's supporters seem to be caterwauling about how (D)s only show up in Presidential races and low turnout caused Newman's electoral demise but to that I say "so what?".
If your electoral success is predicated upon people who are too lazy to mail back an absentee ballot more than once every four years I don't have much sympathy in your loss.
Josh Newman could have easily survived this recall had be run as the man I interviewed on my podcast but instead he ran into the arms of Brown/deLeon and got the shellacking he deserved. A little less contempt for voters and a lot more explaining of facts/reasons would have gone a long way but alas that's not how he rolled. His staff is now unemployed owing to his arrogance.
It is true that I likewise lost in the recall. Current results have me at about 12% of the vote across the 3 counties. Obviously I would have preferred a better showing but if this is the way I go out I'll take it because removing Josh Newman was more important.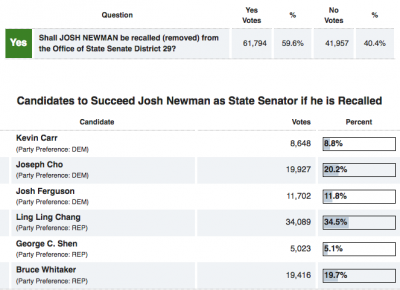 I'll suffer through L2 if it means humbling a man who lied to my face at his swearing in ceremony. My bet is that Newman will be back in 2020 but for now he has 2 years to consider this an abject lesson in how Representative Democracy works in California. You don't raise our taxes and then insult our intelligence without some consequences.
In other election news two of Fullerton's own, and yet worst, appear to have made it passed the June 5th Primary in contentious races: Doug Chaffee & Young Kim.
In the still being counted Supervisor race, for the seat being vacated by Shawn Nelson, Chaffee is ahead of Kerr by a few hundred votes for Top2. Kerr may still have a shot to knock him out of it but it seems unlikely. It is also likely that provisional ballots could swing left and Kerr/Chaffee could knock Shaw out so I wouldn't want to be sitting in Shaw's seat right now.
In the big money race for Royce's seat we see that Kim managed to absolutely STOMP local boy Shawn Nelson with the help of DCCC attack ads and other (R)s splitting the vote.
Young Kim owes Huff and Libertore a round of drinks for their hard work in keeping Nelson out of Royce's seat and then the (R)s will likely need to apologize to Nelson after Cisneros stomps Kim should she agree to a debate.
There were only two people running for Assembly so they both advance and that race stays uninteresting until November.
Did you vote in any of these races? Are you happy with the election results? What did the voters get right/wrong? What do you think we should expect in November?