The Associated Road Saga. An Unnecessary Conflict
Yesterday I posted a letter from the Gingerwood HOA claiming that District 3 councilperson Shana Charles lied at a public workshop about having consulted them about the proposed re-alignments on Associated Road that are being proposed by Fullerton's Engineering Department. That's a pretty bad look for a novice politician.
So now, Friends, let's explore what's being proposed. It's one of those ankle bone-connected-to-the leg-bone kind of things.
First, the City is proposing a sewer and water line improvements in Associated Road between Bastanchury and Imperial. When this is complete, our engineers reckon, it would be an excellent time to repave the street. And then, why not reconfigure the roadway and reduce the lanes from four to two, and add street parking that will act as a physical barrier for a "Class IV" bikeway. Here's an example of what it would look like, courtesy of Caltrans: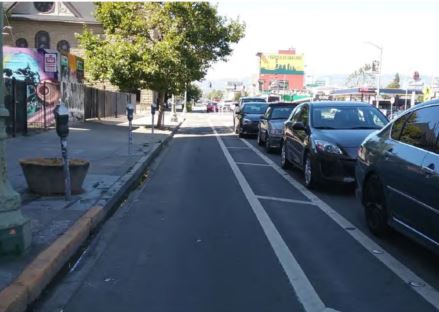 The City reasons that the reconfiguration is justified because the traffic "warrants" are low enough to re-designate this stretch of Associated Road to a mere "local collector" in traffic engineering terms.
The folks who live in the various condo projects along Associated, like Gingerwood, are up in arms about this, and who can blame them? They reason, among other things, that turning out into the one lane of traffic would become more hazardous as their lines of sight will be blocked by parked cars. They will also have to slow way down, in traffic, to turn into their entries. Then there's the issue of strangers parking in their neighborhoods – overflow from nearby apartment inhabitants and visitors to Craig Park.
This entire situation smacks of social engineering on a small scale. I have no idea how many bikers use the existing bike path and if the new configuration is even safer using parked cars as a barrier. But this seems like an unnecessary battle for City Hall to fight against its citizens.
I can't think of a convincing reason not to restripe the street the way it is and move on.
Anyhow, the discussion of this matter is on the City Council this week (Item #14) where we can expect a lively confrontation between the irate neighbors and the people, like Shana Charles, who are behind this.