A Friend directed me to a item in the Fullerton Observer about how Mayor Fred Jung had misused the official City seal on business cards.
UPDATE: 6:45PM 10/31/23. To protect them from getting nasty calls from any mean spirited person out there, the phone numbers of these honest men who are trying to help Fullerton's economic growth have been redacted. The cards were originally published in The Fullerton Observer. I'm curious where the Observer got the cards from to begin with., something tells me it was devious. Two wrongs don't make a right. Hope The Observer follows suit, but don't hold your breath. Admin.
There's nothing odd or wrong about members of City commissions using official insignia and I bet it happens all the time. What is strange is the creation of non-existent jobs advertised on two of the cards we're looking at here. There is no official thing as a Mayor's Art Counsel (sic?) or a Mayor's Economic Advisor. These endeavors would be purely unofficial and creating business cards for them is wrong. And there is no reason to include a résumé on the backside of anybody's City-related card.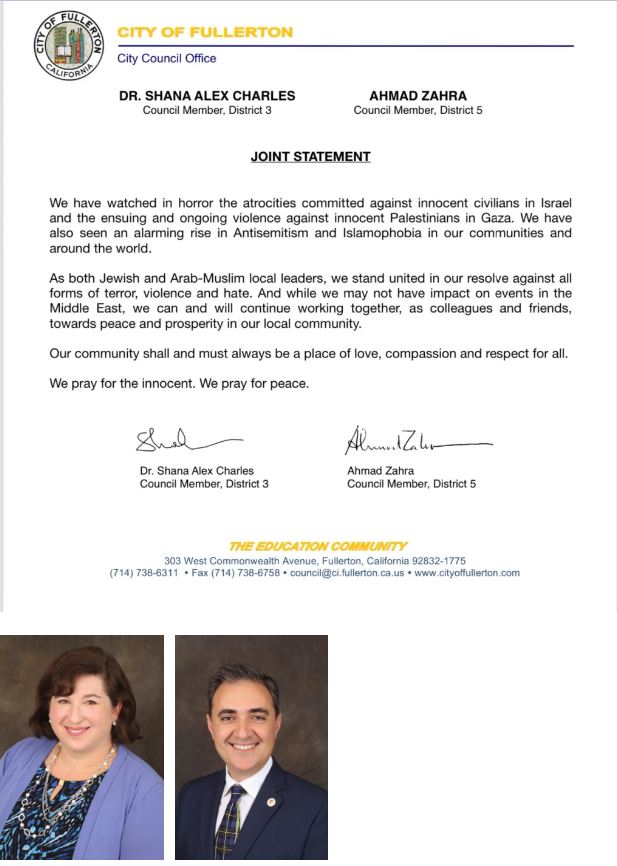 One of the reasons I'm posting this is because a few days ago FFFF published a blog post about the self-congratulatory and unsolicited statement sent out by Councilmembers Ahmad Zahra and Shana Charles about the situation in Gaza on City letterhead that includes the City seal, and that was published in the Fullerton Observer without objection. In the comments section one of our Friends questioned the dubious use of the City seal.
The self-righteous Kennedy clan that operates the Fullerton Observer is too dense to recognize their own hypocrisy here, but I'm not.
The misuse of the seal is happening, and it needs to be stopped, regardless of who is doing it.