Fire Union Puppet Adam Loeser
On Tuesday night, the Fullerton Fire Department will be asking the City Council to void an automatic aid agreement with the City of Placentia. In simple terms, automatic aid is supposed to help both Fullerton and Placentia by allowing units to respond into the other city automatically when Advanced Life Support (ALS) or a multiple unit response is needed.
092121-FD-Automatic-Aid-Agreement-Agenda-Report

When Placentia was still served by OCFA, the fire union had no problem whatsoever with automatic aid. Once Placentia decided to create their own department using private paramedics, the union threw a fit and continues to do so. Members of the Fullerton Firefighters' Association and their families have bullied the City Council on numerous occasions.
Former City Manager Ken Domer supported the automatic aid agreement. Once he was fired, the union saw an opportunity to scrap the agreement but needed someone to champion their cause, a full on union puppet. They found their man — Adam Loeser — Fire Chief of the Fullerton and Brea Fire Departments.
The arrogance of Adam Loeser is almost unprecedented even in government circles. He's asking the City Council to cancel the agreement but lists no specifics as to why. Nothing. Not even a clue. Just a blanket statement backed up by no details. The City Council will apparently have to beg him for details.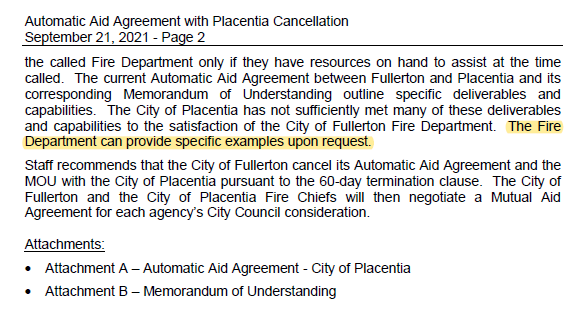 To make this even more shady, Adam Loeser scheduled "Fire Personnel Distinguished Service Awards" for the very same meeting. This ensures that lots of fire department employees (and their families) will already be present at the meeting so they can bully and intimidate the City Council when the Placentia agreement comes up later — exactly what the fire union wants.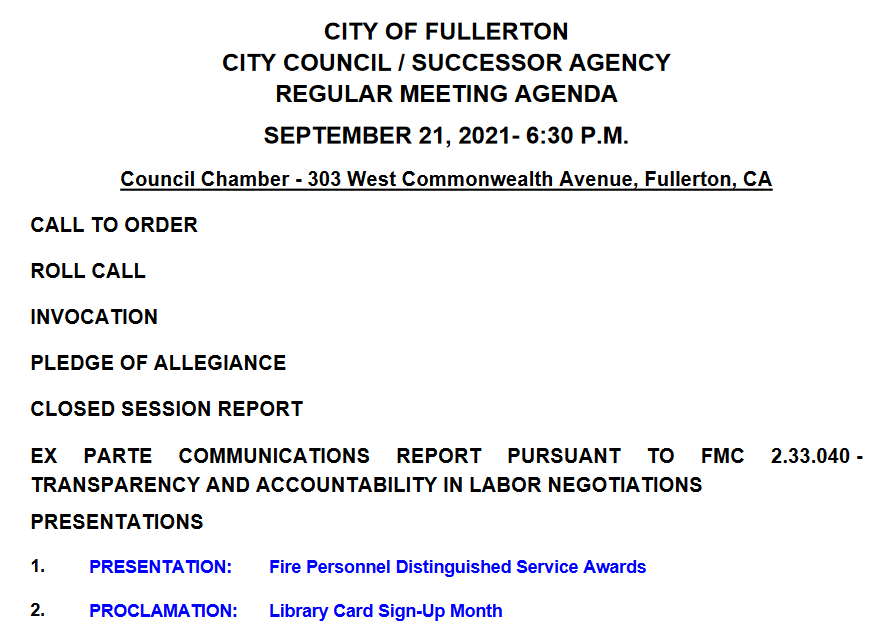 Tuesday night will be packed with self-righteous vitriol by the Fullerton Fire clowns claiming (again) that Placentia is an inferior department, that public safety is at risk, etc, etc. Let's hope three of our five City Council members can see through their nonsense and vote no.