It's often said that government spends half its time fixing problems it created with the other half.
And what better way to make problems go away by getting the taxpayers to pick up the tab for your mistakes?
On next Tuesday's council agenda there is an item to "study" a downtown Business Improvement District (BID). A BID creates a special tax on property owners for specific purposes, generally tied to sprucing up (as the local media loves to say) a geographically limited area. And in this case that area centers on Harbor Boulevard from Truslow to Brea Creek; and from Highland to Lemon.
Below you see a letter sent out from the desk of Community Development Director, Karen Haluza, enjoining property owners and businesses not yet on board to sign up for the great cause. The idea is to generate the appearance of momentum and consensus for a new tax.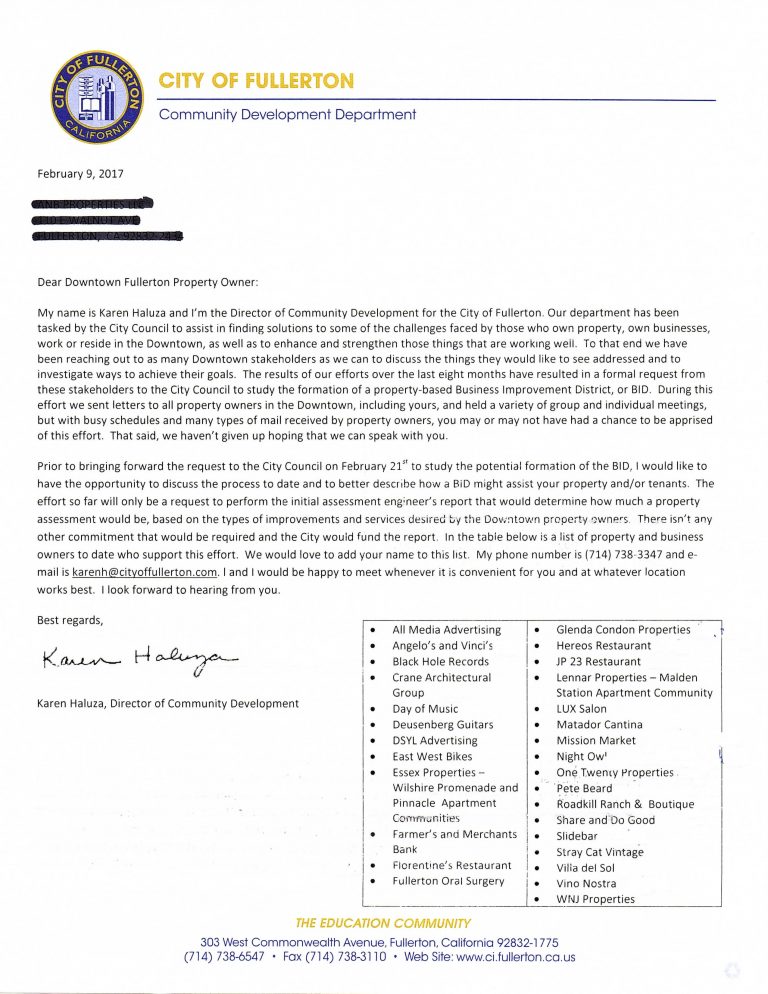 Did you notice something very peculiar about this letter? Haluza first admits she is working on orders from the City Council ("tasked" is bureaucrat-speak); but within a few sentences suddenly it is the "stakeholders" (more bureaucrat-speak) who have, seemingly with  spontaneity, made a "formal request" to study the formation of a BID. Can anyone for a second believe this whole concept was not hatched, fertilized and fermented in Wild Ride Joe Felz's office in City Hall? And check out the list of proponents – mostly businesses, not the actual property owners. On top of that we see the names of several bars and a couple big developers. The developers we can dismiss as toadies looking to score their next big monsters courtesy of Haluza's Planning Department.  The bars?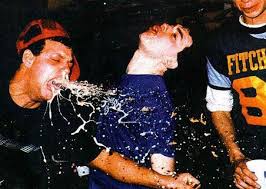 Here's the real problem, and the reason why Downtown Fullerton is an annual $1,500,000 drain on the General Fund. Cleaning up after the nocturnal mess caused by the customers of the bars costs a small fortune in cop time and city maintenance. It's a cost that is born by every man, woman and child in Fullerton, even though it is only people like Florentine's and Slidebar that rake in the bucks.
Downtown Fullerton has been an out-of-control disaster for well over a decade as the City-approved bars proliferated and the mayhem ensued. And now in 2017 city staff is trying to get everybody who owns property in the "district" to fork over a new tax to cover the cost created by the bar owners. A reasonable person might think that cracking down on all the miscreants and scofflaws and irresponsible bar proprietors would be the way to clean up the mess. No. The cops are playing pattycake with the booze culture, and Haluza thinks it's right and proper that the landlords of all the businesses – good and bad alike – pay the freight.
This new tax proposal is nothing but another Fullerton cover up – on a grand scale. The object? To pay for the disastrous culture of booze and violence that permeates Downtown after dark; a culture that was deliberately created and fed by our own incompetent government. Their solution? A new tax.