Behind the Badge – The Gravy Train
UPDATE: a keen-eyed friend wrote in to inform us of a couple interesting facts about the City's "Back the badge" documents. First, the original contract and the first purchase order don't agree. The PO describes a one-year term while the contract is for only six months. Second there is no PO that covers the period from May to November 2014. The City's controller should not have been able to write checks without a PO to write checks against, so something is fishy there.
FFFF has already shared with the Friends here some of the more ludicrous aspects of "Back the Badge" a PR outlet for cop departments and unions that we pay for.
The whole shabby deception is so bad we decided to dig a little deeper to see just how the Fullerton taxpayers got hooked into paying for the cops to peddle their propaganda – to us.
Here are the documents we were given.
The documents we received indicate a completely non-transparent, slipshod City-vendor relationship in which deliverables are sketchy, and grossly overvalued.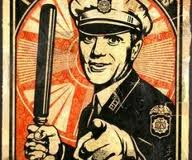 First, it's important to point out that this relationship was approved in secret by former City Manager Joe Felz in spring 2013, presumably under his spending authority. The City Council may have been informed, but the public most assuredly was not. Even Felz must have been aware of the possible public blowback against this nonsense. And he undoubtedly had the support of council persons Flory, Chaffee and Fitzgerald in trying to keep this gross squandering of public funds out of the public eye.
It is critical to recognize the contract for what it is: a fixed fee arrangement in which the vendor gets his contracted monthly amount regardless of what he actually accomplishes. These sorts of contracts are comparatively rare in government precisely because they are not tied to specific scopes of work. In essence there is no real oversight at all, even if anybody felt like doing it – which they didn't.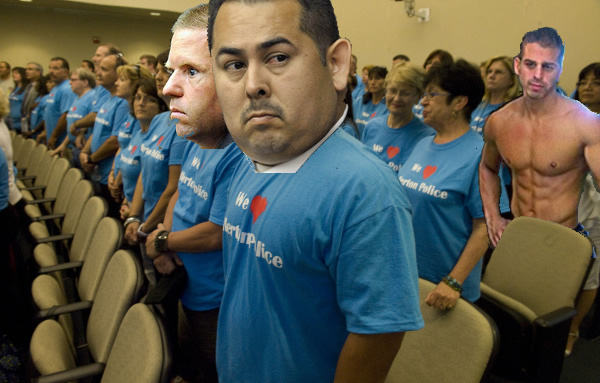 If you peruse the invoices you will find all sorts of weird "deliverables" of intangible sort like "PR services," "OC Register columns," and "Fullerton News Tribune" just the sorts of things that are impossible to value and make you wonder if the real media was in collusion with Back the Badge. FFFF has already noted how the Yellowing Fullerton Observer has published an article, verbatim, from Back the Badge, here.
Of course some of the contractual items like "traffic/performance reports" yielded no responsive documents in our public records request. Anyway, as I noted it above it hardly matters.
One extra-contractual proposal sent to former Chief Danny "Galahad" Hughes offers 40,000 print copies of "Behind the badge Fullerton magazine" for a mere twenty grand.  Who approved that, and where did these print copies go? That we shall likely never know, as the police PR mechanisms are obviously none of our damn business, even though we are bankroller and target audience.
My favorite item in the proposals from Back the Badge is something called "crisis counseling." This must be a service that is called upon when something really bad occurs and the cops need to polish up that road apple, and quick! So did Back the Badge spring into crisis counseling mode the night their benefactor, Joe Felz, smelling of liquor, drove off Glenwood Avenue, and was given a free pass and a ride home by the Fullerton Police Department?
On December 17, 2016, the City issued a new Purchase Order for more of those valuable Back the Badge services. The invoice cites the brand-new interim Chief but there is no reference to the Acting City Manager since by this time Joe Felz was long gone, the victim of his own reckless behavior. So who authorized the issuance of this new PO? The police chief, whoever he is, has no such spending authority. It seems as if the Culture of Opacity and Unaccountability is humming along on auto pilot.
Well, this is Fullerton and if you want to find out what is going on – well, good luck with that.