Fullerton's Real Volunteer of the Month: the Taxpayer
Forbes Magazine has a very timely look at some of the highest paid city managers in California. Look who made the list at number 10?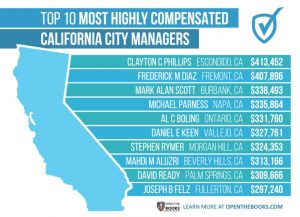 And note that this is before the $10,000 savings from having to avoid the cost of defending a potential DUI charge is factored in.
Of course this just scratches the surface of Fullerton Taxpayers' generosity, because Felz is only our third highest paid public employee, and he was the fourth highest paid the night of the Sappy incident. The highest, of course, was the man who made sure he would never be charged in the first place.
Doug Chaffee owes us all his parking space for the next meeting.
Thanks to Jack Dean at Fullerton watch for the heads up on the full article from Forbes, found here: I strongly recommend reading the entire piece to get a sense of the scope of waste in California government in general.