Behind the Bullshit – Standards? Really?
"Behind the Badge OC" is a propaganda outlet for "public safety" departments across Orange County. It is run by former OC Register staff who came to realize that writing cop puff pieces on their own was even more lucrative than doing it while pretending to be reporters for the pathetic, knee-jerk pro-cop Register.
This enterprise works for police unions in the main, but things get really profitable when they can sucker a public agency, like the City of Fullerton, to use public money to write this drivel, all under the auspices of "educating" us about our wonderful police department. You'd think that honest work, a good attitude, and abiding by the same laws the rest of us have to, would be sufficient to generate respect for our boys and girls in blue. Wink.
But enough preamble.
Back on June 13th, BtB published this completely unremarkable tale about the squad responsible for documenting the training given to FPD personnel and the standards that apply thereunto. Standards, eh?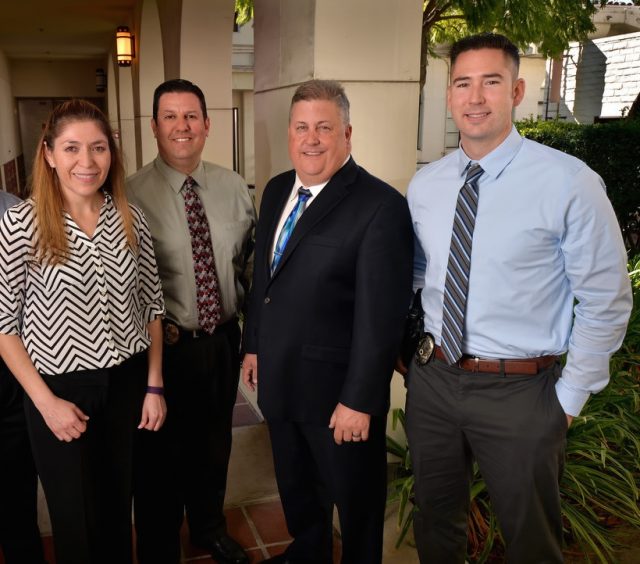 Check out the adipose and otiose individual in the middle who is in charge of this unit: none other that our old friend Andrew Goodrich, who was last heard of serving in the exalted office of watch commander the night of November 8th, when our City Manager, Joe Felz, ran off the road, was given a pass on a breathalyzer test, was driven home and tucked into bed by one or more of those cops who got all that expensive training.
You may also remember Goodrich from his stint as FPD Public Information Officer – a job in which he really shined – passing out phony information to make Kelly Thomas look bad, and the cops who killed him, well, at least better. He was also part of Chief Danny Hughes' obnoxious scheme to hand out tickets to protest supporters for "excessive horning."