Fullerton Mayor Wants To Offer Thomas Family An Apology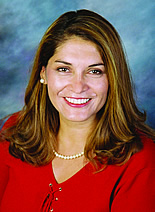 The Voice of OC(EA) is reporting here that Fullerton mayor Sharon Quirk-Silva intends to issue an apology to the Thomas family on behalf of the people of Fullerton; and apparently she also wants name a small part of Fullerton after Kelly Thomas, the homeless, schizophrenic man beaten to death by members of the Fullerton police department last July.
What's the apology for? According to the article, it's not entirely clear if it's for the deliberate smear campaign against Thomas to help make the cops look justified in their actions, or for the actual killing itself.
If it's the former, I guess the apology would focus on the FPD/City totally mischaracterizing as a "fight" the horrible beat down that took place on Thomas; for telling the public that cops had suffered broken bones; for insinuating that Kelly was amped up on drugs and had stolen property on his person.
Of course all that nonsense was pitched by FPD spokesdonut Andrew Goodrich who never thought it necessary to correct any misinformation he had peddled in those first days after the crime, which makes it deliberate, obviously. If this will be the gist of it, then the apology will be nothing more than a repudiation of Goodriches' sad performance trying to defend the indefensible actions of his union brethren.
Personally, I would be happier with an apology for the murder itself, along with a personal apology from Quirk-Silva to the citizens of Fullerton for helping permit a Culture of Corruption in the FPD during her seven-plus years in office. I guess this ins't too likely.
An apology may make Q-S feel better, but sincere or not, I think it falls under the heading of too little, too late; still, better late than never, I suppose.
Oh, by the way, Ms. Quirk-Silva is letting the City Attorney edit the "apology" and that's not  good sign.
As to the issue of placing and naming a bench after KT, I think that's not helpful. But I relish the idea of watching Pat McPension vote to recognize the homeless man who was beaten to death by thugs he personally hired and vouched for.