Dave Ellis Visits FFFF; Leaves Slime Trail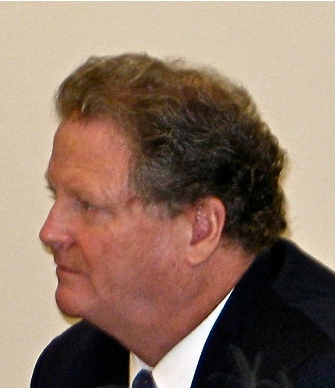 We've just traced a string of obnoxious comments to an operation called Delta Partners. What is Delta Partners? It's a front for the sleazoid repuglican bagman Dave "Dick" Ellis who tried to sell the OC Fair to himself, who hired Dick Ackerman as an illegal lobbyist to grease it, and who was later hired by Ackerman last fall to rip off the Three Dim Bulbs in a useless anti-recall campaign.
What a guy! Here are his comments, a pathetic amalgam of illiteracy and ignorance. Enjoy the wit and wisdom of Dave Ellis, intellectual voice of the anti-recall:
#33 by Cock A Doodle Do on May 21, 2012
Is that the street in front of Bushala's house? The one where he's got all the chickens running loose crapping in the street?
#94 by Recall Whitaker on May 12, 2012
Nice move Bruce. Nothing like convicting them before a jury does. Remember you work for all citizens of Fullerton. Your job is to represent ALL citizens. I want my Council Members to make decisions based on FACTS, not things you make up in your head. You still claim there is a cover up by the PD, yet you've done nothing to prove it. Why is that? I've heard you say the police reports were doctored, yet have you seen them? Can you prove they were?
Stop running your mouth unless you can back it up with FACTS! I want my Council Members to think before they speak. The problem is you can't speak without Bushala or Thompson putting words in your mouth.
I say the citizens recall YOU.
#28 by Fidel Fullerton on March 10, 2012
I'm worth millions, I've had a successful medical career, I've served my country with honor, I've raised a wonderful family, and I to sit hear and listen to these FUCKING IDIOTS.
#30 by Freaky Fullerton on May 12, 2012
Whitacre you grandstanding fool. Had the video been released when you requested there would have been no audio. Just a grainy indecipherable mess that proved nothing. They audio was added in preparation for the preliminary hearing. When the DA tells you to refrain from stupid publicity stunts he does so for a reason. Let your Legislative buddies do the grandstanding, they're much better at it.
#45 by Lucky Sperm Club on May 18, 2012
He was born with a Silver Schlong in his mouth.