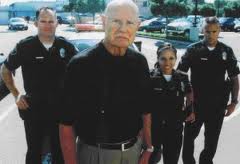 Frequent commenter, blessusall stopped by yesterday to share a thought about the formal "apology" on today's City Council Agenda. As you all know the apology was from the City to the Nordell family because last year a bunch of heavily armed FPD cops broke into their house by mistake in some sort of botched drug raid.
blessusall opined about the irony of this insincere apology (got only by dodged persistence by the Nordells) vis-a-vis all the other FPD misbehaving' going on lately and suggested the City might:
Apologize for the lawless behavior of:
McKinley
Sellers
Ramos
Wolfe
Cicinelli
Hampton
Craig
Blatney
Goodrich
Rincon
Major
Siliceo
Tong
Cross
Wren
Nowling
Mejia
And who else?
Who else, indeed. These pages are strewn with the miscreance, mayhem, and murder perpetrated by Pat McKinley's hirees and trainees. At this point even the most die-hard cop apologist must be wondering about the stuff that hasn't even emerged yet, and how much all this crap is going to cost the taxpayers of Fullerton.
Apology? Hell, yes! And why not demand that apology tonight!