Metrolink Expanding, But Where Are The Riders?
The following commentary was sent to us by a friend who is concerned about a questionable Metrolink service expansion from Fullerton to Laguna Niguel.
A fourth track is currently being built at the Fullerton Station, exclusively for Metrolink's new Orange County service — dubbed Metrolink Service Expansion Program (MSEP) by the folks at OCTA. I believe the concept is flawed from the start, and last I heard it is costing taxpayers at least $417 million.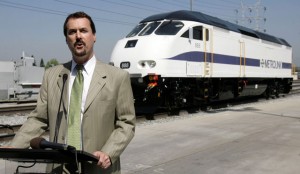 I've asked numerous people at Metrolink how OCTA justifies the demand for this service. Nobody has an answer. Since it will run between Fullerton and Laguna Niguel only, it's totally useless for commuters needing to get to Los Angeles. In my experience riding Metrolink, there are very few passengers riding such short distances in Orange County. If a person can afford $14 for a round-trip ticket Fullerton to Irvine and back, there's a very good chance they already have a car and won't bother to ride the train.
Furthermore, this service won't appeal to bus riders unless OCTA drastically reduces the fares. That won't happen… they just raised the fares again on July 1st. OCTA's pipe dream to operate this service "every 30 minutes" makes a stupid idea all the more ludicrous.
There's an angle to this which will affect the Fullerton Station (and the surrounding area) in a big way. Since the northbound trains terminate at Fullerton, the station area will become a layover terminal (akin to an airport) for people needing to get to Los Angeles. Suppose somebody takes the wrong northbound, thinking it goes to Los Angeles, and finds themselves in Fullerton having to wait HOURS for the next train to Los Angeles. There will be people sleeping on benches, sleeping on the ground, leaving their trash all over the place, etc, etc. The local restaurants will have to deal with freeloaders using their bathrooms. It just won't be a good situation.