Beauties And The Beast – Redux
We caught some flak awhile back for our posts on the subject of old geezers getting all touchy-feely with the tender young Miss Fullertons at Chamber of Commerce mixers, here and here. Some of our readers thought the practice was harmless or trivial.
Whatever one's perspective, the images were pretty fun. Remember?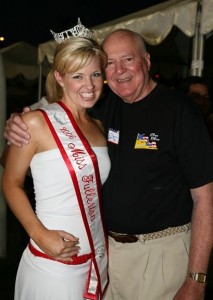 Naturally when the Miss Fullerton contestants went on display at the council meeting this past Tuesday we thought it was a likely source of entertainment. We were right: The proceedings did not disappoint.
Enjoy our debonair mayor in action. Quite frankly he was almost dumbfounded.