The Sidhu Crew; The Gang That Couldn't Shoot Straight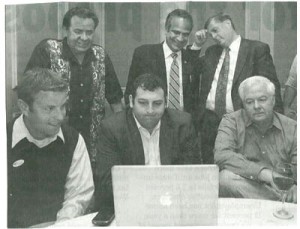 I just changed the title to this piece. Checking out this band of government for sale repuglicans made me do it. Yes, it is an organized mob. Well, disorganized, at least. But look what they've got to work with.
– Joe Sipowicz
The other day The OC Register ran this image in a story about the Shawn Nelson/Hairbag Sidhu race. The story was erroneously titled "Nice Guy Finishes Second" or some such BS which as we know is not true. "Perjuring Carpetbagging Assclown Finishes Second" was the original title until the editor felt sorry for Hirsute Sidhu.
Anyhow, the picture above was absolutely priceless. Enjoy the facial expressions of Hairball's election backers as the bad news flashes across the screen. John Lewis already seems to be scheming on how to shit-dump Sidhu; and Pringle, well Pringle's thinking about all the personal credit he tied up into this bozo and how he can possibly ever recoup even a small part of that investment. The fellow behind the computer looks like he just had the Shrimp Special at Roland Chi's place. The two guys on the left obviously wandered into the picture by accident from a Saturday Night Live skit.
But check out the grinning Assclown chowderhead Sidhu – oblivious to the electoral disaster! Good news is only just around the corner! I am #2!