A Citizen Responds to Roland Chi Nonsense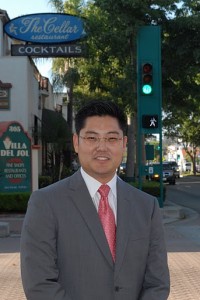 The other day Fullerton City Council candidate, carpetbagger, and food poisoner Roland Chi sent out a press release touting his "volunteering" to educate folks about some So Cal Edison program. Despite the hilarious lack of actually doing anything, or even thinking up anything for himself, Rolando decided to hop onto some idea barfed up by the power monopolists at Edison.
It didn't take long for an unhappy citizen to respond to this vacuity. And fortunately they cc'd FFFF:
Sent: Mon, September 27, 2010 4:40:42 PM
Subject: RE: PRESS RELEASE- CANDIDATE CHI VOLUNTEERS FOR ENGERY & COST SAVING PROGRAM

Dear Roland,
This is a joke, right? Are you seriously taking a tax and spend model based on a false premise of enviromental protection that this utility company has subscribed to and a.) claimed it as your own, and b.) trying to pass it off as pro-small business? Wow. That's pretty crazy.
The "ratepayers" (residential and commercial) paid extra on their bills and then the company redistributes it by installing different lights, toilets, programmable thermostats, etc. in commercial buildings.
That neither shows "innovative leadership" nor "advance(s) business development locally."
If you are looking for innovative leadership, try doing something that YOU came up with, not someone else. And if you are trying to help local business development, how about reducing the size and influence of government and quasi-government entities (i.e. utility companies) not encouraging it.
This seriously made me laugh. Keep the liberal policies coming.
And here's the text of the comical "press release:"


PRESS RELEASE
FOR IMMEDIATE RELEASE
DATE: SEPTEMBER 26, 2010
Contact: Roland Chi, Fullerton City Council Candidate
Office: (714) 889-8880
E-mail: [email protected]

CANDIDATE ROLAND CHI ASSISTS FULLERTON
BUSINESSES IN SAVING MONEY AND ENERGY BY
VOLUNTEERING TO INFORM OWNERS OF FREE SOUTHERN CALIFORNIA EDISON INITIATIVE
*Chi is running for Fullerton City Council's 2-year seat
FULLERTON – City Council Candidate Roland Chi volunteered to inform Fullerton business owners of Direct Install, Southern California Edison's (SCE) new, energy-saving program. Chi's efforts in conjunction with the City of Fullerton and Fullerton Chamber of Commerce to facilitate the awareness and participation of local owners in such programs, demonstrates his innovative leadership and commitment to advance business development locally.
As Fullerton continues to experience economic hardships, it makes it especially challenging for small businesses to profit, let alone survive. As a local business owner, Chi understands what owners are facing by having to cut costs and operate cautiously due to continuing revenue loss. To revitalize local business, Chi's new ideas, initiative, and strong "blueprint" are necessary for short-term local economic improvement.
SCE's new initiative seeks to lower energy costs for small-business owners by recommending and installing up to $10,000 worth of energy-efficient products at no cost to owners. For a business to qualify, it must be nonresidential and within SCE's service territory. Direct Install is funded by California utility ratepayers and is administered by SCE and will remain available to business owners until all funds are exhausted. The program is available to any qualified business whose monthly earnings are less than $100,000.
Chi, SCE, and the Fullerton leadership organizations who participated in this imitative, understand the benefits of programs like Direct Install, which foster active dialogues and partnerships between businesses and government, establishing an openness and trust that enables more efficient City improvements.
"I chose to volunteer for this program because this initiative aligns with everything my campaign is about which is improving the business climate for local business owners here in the city of Fullerton. This program directly improves the bottom line of small businesses which is what I seek to do on the city council." Chi's business-minded approach will enable local owners to re-invest, prompt growth, generate revenue, and attract new business, thus creating new jobs.
Chi's participation in Direct Install demonstrates his dedication to advancing local economic interests by fostering open dialogue with owners, integrating new ideas, and utilizing all available resources. "I will ensure Fullerton's remains a great place to live, work, and raise a family." For more information about SCE's Direct Install please call (800) 736-4777. Further information about Candidate Roland Chi is avai lable at www.rolandchi.com or by [email protected] VVV