The North Platform Fiasco – Trio & Menuetto
Ah, Friends! Would that we could end this sorrowful tale of the Fullerton train station north platform without taxing your delicate sensibilities further. Yet, alas, we cannot. We have already detailed the story of the useless block wall that was built right in front of an existing wall, as well as the comically useless canopies built therein. But the "designer" was far from finished with the addition of masonry!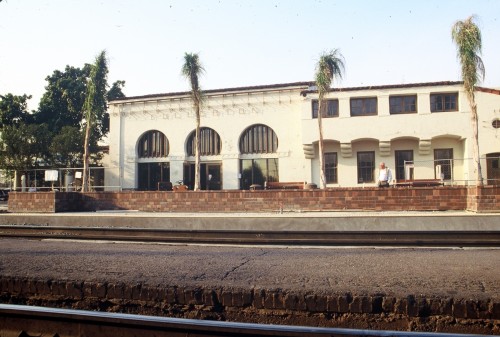 A huge block planter was placed in the middle of the platform – blocking direct access to the trains; a smaller one was inconceivably built on the footprint of the future elevator tower without anyone noticing. The idea of placing this practical barrier right between passengers and their destination seems odd to us non-professionals, but not, apparently to landscape architect Steve Rose who drew it there on his plans, nor to Redevelopment's in-house Master of Disaster "manager" Terry Galvin, whose job it was to review the plans; nor even to the Design Review Committee which at that time included two interior decorators.
Well, Loyal Friends, in case you thought that things couldn't get much worse, you would be wrong. Stay tuned as we continue the lachrymal tale of The Great North Platform Disaster!