The North Platform Fiasco – Adagio Molto
Useless walls and canopies, obstructive planters, and trees on the platform: The Great North Platform Disaster was shaping up to be one of the jewels in Redevelopment manager Terry Galvin's cockeyed crown. Local landscape architect Steve Rose had outdone himself in a seeming effort to waste money and to foist comical design elements onto the public and the taxpayers of Fullerton. But, there's more.
The historic benches on the platform were  jettisoned; they were to be replaced by "street furniture" that was comprised of modernistic plastic coated wire chairs, and undersized waste receptacles, and that had nothing to do with the Spanish Colonial Revival architecture of the depot. It was later realized that ash trays had been omitted.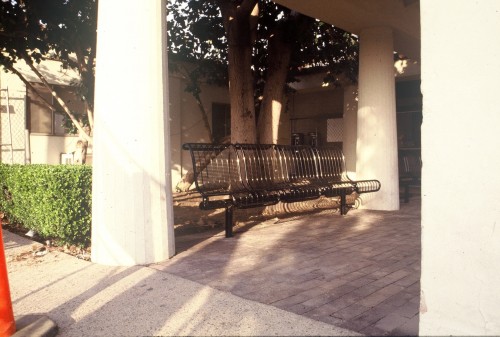 It just didn't seem possible that the design choice could have been any more inappropriate or comical. And yet there it was, the final insult added to injury. What would the public reaction be? What would Fullerton's City Council do? What would City staff do to put a happy face on the disaster?
You'll find out tomorrow!