Some Information About "The Fullerton Collaborative"
Pam Keller likes to talk a lot about her role as Executive Director of something called The Fullerton Collaborative. We didn't use the word "job" because we're not sure yet how much actual "work" goes into the function.
We do know that the Collaborative seems to be run by, and for the principle benefit of Pam Keller herself.
Here is the first page from the Collaborative's 2007 tax filing: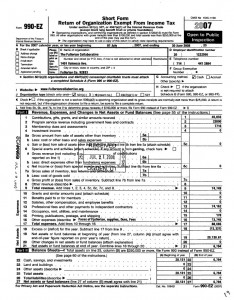 Note that the Collaborative's expenses exceeded its revenue by 13k, covered by a surplus from the year before. Notice also that the corporation's address is the same as the Fullerton School District's headquarters on West Valencia Drive. This latter fact is explained on page 4:
The Collaborative has an agreement with the FSD to provide an "executive director"  for 44K. That's Keller. The only explanation for this is that this way Pam gets to remain an FSD employee with salary and benefits thereof, while doing her good works and self-promotion as a professional do-gooder on the taxpayer's dime. Instead of a telling folks she's a public employee, she gets to pretend that she's the employee for a 501(c)(3) non-profit organization.
Notice that the cost of Pam is the Collaborative's main expense in 2007. The only other significant expense is a $26,000 contract with something called OCCO for "community organizing." Rusty Kennedy's do-nothing Human Relation Commission is in on the gravy to the tune of $4400 for "leadership training," whatever that may consist of.
Since Keller is listed on the Collaborative's website as a board member, we wonder whether she's actually negotiating and voting on her own contract with the FSD. The dialog in the room during those discussions might be fairly amusing. And we also wonder if anybody else on the board is auditing that relationship for vendor performance management. Hmm.
We are a bit curious as to why public funds are being sluiced through this rather elaborate piping in the first place. And we wonder, given the fact that FSD Board member Minard Duncan is listed as a "member-at-large," how closely the FSD negotiates and manages that contract itself. There is something called The Government Accounting Standards Board; are their rules being adhered to regarding accounting and public disclosure of their financial relationship with The Collaborative?
Of course we are also very interested in where The Fullerton Collaborative gets its funds, especially which private donors, if any,  are contributing the wherewithal to cover the FSD contract that pays for Fullerton City Council woman Keller's services. The Collaborative's website is strangely silent on the identity of its donors; most charities boast about their benefactors, who generally like to be boasted about.
When we find out we'll be sure to  share the information. And if we can't find out, we'll let let our Friends know that, too.