"Pumpkin Launch" A Metaphor for Redevelopment Failure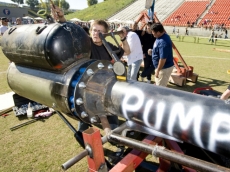 The OC Register reports about a strange event that went awry: a pumpkin launched from a pnuematic "cannon" by engineering students overshot its target and crashed through the scoreboard of the CSUF football field.
So why is this an apt metaphor for Redevelopment? Consider the venue: a football stadium financed by the Fullerton Redevelopment Agency for a football program that was disbanded the year after the stadium was built . Then consider the dopiness of the event itself. Then reflect upon the fact that the participants didn't seem to have a clue what they were doing – missing their mark by 120%.
And finally, the cavalier attitude of the event organizer: damage was minor, and "They had no idea how far it was going to go," (Keith) Brush said. "You know, with engineering projects, they usually don't work out the first time." And of course the the ultimate subjective stamp of approval that would have done any Redevelopment Director proud: 3000 kids had a good time. And of course we can't put a price tag on that, now can we?
At least the pumpkin launch damage will only cost a few thousand bucks to fix (just wait'll CSUF gets done with that bill!). Fullerton Redevelopment boondoggles cost a lot more.