Dick Ackerman For 4th District Supervisor?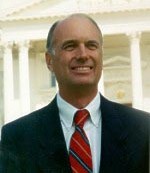 Lost in the brouhaha over his wife's sudden carpetbagging political ambitions in the 72nd State Assembly special election is the curious fact that Dick Ackerman is very likely going to be a resident soon of the 4th Supervisorial District.
We're not real sure yet where the Ackermans have decided to take up their faux residence, but chances are pretty good it will be back in Dick's old happy hunting grounds, surrounded by the love of all his old Fullerton Rotarian pals. And if he does "move" to Fullerton he would be able to throw his hat in the ring for termed-out Supervisor Chris Noby's job.
Far-fetched? Well, maybe. But the Ackermans seem to be the type of folks who avoid leaving anything on the table, so Shawn Nelson would be well-advised to watch his back…