Barbara Giasone Puff Piece Ignores Historic Resource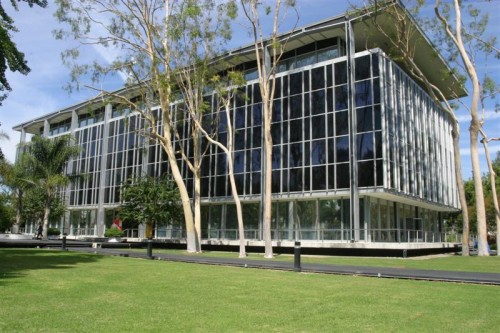 We are finally getting around to writing about an item our dear, squishy-soft Barbara Giasone scribbled out last week about the Grace Ministries sanctuary – a god-awful looking, overbearing monstrosity click here to enjoy Barbara's pabulum . In her journalistic valentine, Babs passed along the grandiosity of the church (larger than Crystal Cathedral, oh joy!) but omitted mention that the Administration Building and "the gardens" were designed by world-famous architect William Pereira and are part of a larger original complex that includes the Hunt Library and the hideous "bark park" (more on that in another post!).
It's not that we expect Giasone to know or even care about such things, but we really want to heighten Fullertonians' awareness of this amazing architectural resource in their midst. The City has done very little to protect this resource as they handed out entitlements to the massive church that, we assume, pays no property tax. The filled-in reflecting pond is pretty symbolic of the disregard to this complex; the City's bark park adds insult to injury.