During the fall we had a lot of fun attacking the "Repuglicans," local members of the Republican establishment who have made it their goal to milk a political system over which their party has control, and milk it for all it's worth. The County of Orange is a Repuglican plantation, and we are all just pickin' cotton for them.
Naturally we provided helpful definititons and illustrations of the breed, including such luminaries as Dick Ackerman, Scott Baugh, Tom Fuentes, and of course, Anaheims's own, Kurt Pringle. If there's a nickel on the table these fellas will go for it, and go for it hard.
The arrogance and hypocrisy of "small gummint" 'pugs – of all shapes and sizes – making a living off of big government (and the bigger the size o' government the better the living) is something rarely discussed at GOP Central Committee meetings, out of which the 'pugs operate their rackets.
One name we haven't spent a lot of time on (although we did last spring) is former State Senator John Lewis. Mr. Lewis is a campaign consultant. He is also a lobbyist at the County Hall of Administration. Gee, that's very convenient. Get 'em elected, then lobby 'em for your clients. What an operation!
Lewis is currently in the process of losing one of his bonus boys on the County Board of Supervisors. 4th District Supervisor Chris Norby is moving on after seven fruitful years; and a couple years after that his other boy Bill Campbell will be gone too.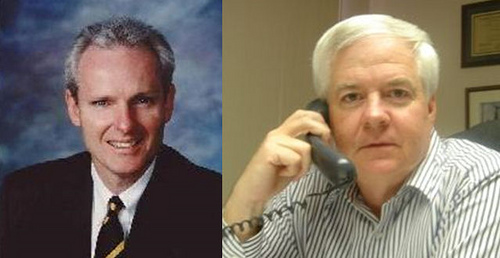 So Lewis needs a new boy, a tool, a yes vote on the Board and a friend behind the 3rd Floor scenes,  ASAP. And Democrat Tom Daly is his new object of affection in what can be described as a  symbiotic love affair. Just goes to show how shallow and useless are the "conservative" principles spouted by 'pugs like Lewis and his altar boy Matthew J. Cunningham, who has wasted so much of our time with his many dodges and pirouettes around the basic fact.
(Interestingly Cunningham was making his usual  avoid-the-subject-change-the-topic comments here on some issue or other, until one commenter suggested that perhaps his own wife had been offered a job in a future Daly administration. We're looking into that one!)
For the Repuglicans  there is no principle that can't be bent way out of shape in the pursuit of business or political success – just look at Ackerman's budget deals, or Ed Royce's continued support of worthless RINO candidates on the Fullerton City Council. And now Lewis supports Daly "out of loyalty," we are supposed to believe. Heya, John howzabout some loyalty to the the principles your party is supposed to stand for? Oh. Yeah. That's right. Sorry.
Well, we can't fix the world. We can't even fix Orange County. But we can, and will spend a lot of time talking about John Lewis and Tom Daly in the next five months, or until Daly pulls the  plug on his own campaign.