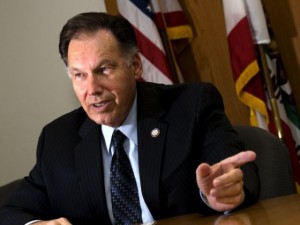 The Orange County District Attorney, Mr. Tony Rackauckas, has a pretty miserable record holding public officials and cops accountable for their misbehavin.' It took a dead man and a killing caught on video to get him to prosecute FPD cops Manny Ramos and Jay Cicinelli for the beat-down they instigated and laid on Kelly Thomas. Even that prosecution was touch and go.
And for years we have been seeing T-Rack investigatory work product that was just an obvious nothing.
Now we have the interesting case of Joe Felz's Wild Ride, in which the Fullerton cops apprehended the former City Manager after he jumped a Greenwood Avenue curb, ran over a tree and tried to drive away. The police on the scene administered no breathalyzer test even though they smelled alcohol about Felz's person. Instead of a ride to HQ, the cops gave Felz a ride home, with no questions asked. The city sent the case to the DA to examine – something – nobody knows what for.
As is often the case, history provides an instructive example with which we may reasonably predict a future event. Here is a story from the City of Garden Grove.
It turns out that the council of this fine city blatantly and willfully violated California's open meeting law known as the Brown Act. The Mayor forwarded the matter to the DA. The result? A cunningly brilliant amalgamation of apparent action and no action at all. Even though the DA chastised the council for violating the "spirit and intent" of the law,  he claimed that there was no way to prosecute because…he is not a mind-reader! Rather, he presented to them a list of findings and concerns, dos and don'ts that would, presumably, help them in their future endeavors to obey the law. Meantime, councilmembers denied all wrong doing, and there the matter ended, with law enforcement providing an expensive yet feeble shadow-show, and with the offenders keeping their eyes closed as the pantomime played out.
I think the odds of a replay of this farce in the Felz matter are extraordinarily high. The DA has lots of wiggle room. He can't charge Felz with anything because nobody collected evidence. The cops that let him go were just following orders.  The upper echelon who gave the orders – the egregious Andrew Goodrich and outgoing chief Dan Hughes – were merely exercising their professional prerogative to ignore their own policies and procedures whenever they feel like it. At worst, perhaps a gentle hand slap to persons unnamed, case closed and no need for the "internal review."
Wait for it.