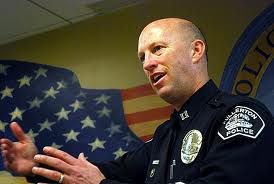 As expected, the new council voted 3-2 to begin "negotiations" with Dan Hughes to become Fullerton's police chief.
Flory, Chaffee and Fitzgerald took their vote even as questions remain unanswered about Hughes' role in the aftermath of Kelly Thomas murder, and accusations that Hughes himself was involved in an incident which is now the subject of a lawsuit against the City; and of course ongoing suspicion that Hughes has been an active part of the Culture of Corruption every step of the way.
Now watch 'em give away the store.
Oh, and yeah: you will not be getting a police oversight committee.