The Recall Campaign's First Victory; When You're Right, You're Right.
And I was right. But enough about me. Last night the Three Gasping Gastropods chose Sharon Quirk-Silva to be Fullerton's mayor in 2012.
In meeting that can only be characterized as bizarre, the repuglicans did the heretofore unthinkable: make a Democrat mayor in her re-election year. The visceral pain that must have caused anti-recall handler "Dick" Ackerman" is a wonderful bonus gift of the Recall. See, Tricky Dick is courting what's left of the old liberal rear guard and the Recall gave him no choice but to promote Q-S. Ha! Suck on that, Dicky Boy.
First came public comments, Part 1, with the usuall brow-beating of the Three Triceratops, plus a special guest stars, Pam Keller. The goofy grin and air-headed air of self-importance reminded me of just how grateful we should all be that she bid the council adios.
Then some business items which o' Doc Heehaw blew through so fast you would have thought he was either double parked or was anticipating an urgent case of diarrhea. Then the elections of mayor, and mayor pro tem. I wonder what Ed Royce thinks about this since any elevation in stature for Q-S means the greater likelihood for an eventual Congressional challenger for him.
As anticipated the Trio of Broken Bivalves elected the youngest, and sprightliest of their gang, Pat McPension, to be back-up mayor. The fact that McKinley believes it's not dangerous for cops to fondle women in the backseats of their patrol car seems not to have been a deterrent to his promotion. Bruce Whitaker was nominated by Q-S, to her credit. The vote was 3-2.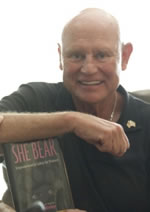 And then the sublime. Public comments were re-opened. The reading of Marisa Gerber's article on the sad state of affairs in the Fullerton Police Deapartment followed; a litany of law-breaking and head breaking that sums up what the department became under Jones, Bankhead and McKinley's over-long tenures. It's now on the public record and McKinley can no longer hide from the truth: under his command, or lack of same, the police department sank into an undeniable Culture of Corruption.