"Dick" Ackerman, Moral Weathervane of the Anti-recall Team. Part 1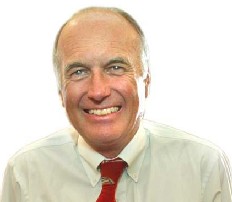 Some of our loyal readers have asked us who Dick Ackerman is, and why is he the leader of the opposition to the recall of the Three Shop Worn Stooges on the Fullerton City Council: Jones, Bankhead, and McKinley.
Good question. After all, Ackerman is a resident of Irvine, and although he used to live in Fullerton a long, long time ago, it's not immediately apparent why he should care about defending the Three Burned Out Bulbs on the council.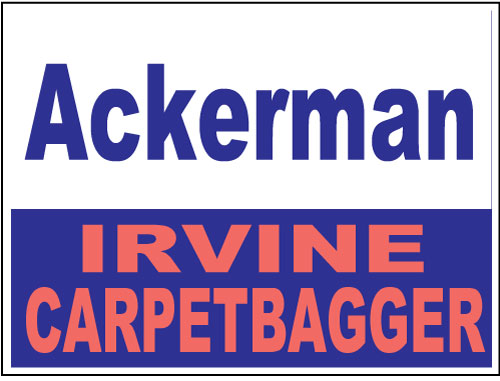 Well, these three did support Ackerman's utterly unqualified wife when the Dickster tried to get her into the Legislature by cooking up a fake address in Fullerton.
But there's more, and as you may have guessed, it's the cash nexus. You see, ever since Ackerman termed out of the Legislature he's been looking to grease his skids peddling the influence he accrued on the taxpayer's dime. He is employed for lobbying purposes by a law firm called Nossaman; but rather than bring in business he's actually become embroiled in embarrassing ethical and illegal incidents (more on that in Part 2). The word on Easy Street is that he's got to bring in some do-re-mi to Nossaman and PDQ, or he's out.
Which circuitously brings us to the latest round of "affordable" housing projects in Fullerton, the kind of housing that costs two or three times as much to build as the regular kind, and the sort that Dick Ackerman vociferously opposed on principal when he was on the Fullerton City Council. Well that was then, before Ackerman discovered he could profit handsomely from them. Now he is a lobbyist for one of the so-called developers, St. Anton's Partners, who, not surprisingly, received the promise of millions of dollars in City Redevelopment subsidies from Jones, Bankhead and McKinley on a project just a few weeks ago. Jones, Bankhead and McKinley were so eager to pay off Ackerman that they actually tried to rush through their vote before the public hearing was even held!
And that's why Ackerman needs to keep Fullerton's Three Blind Bobbleheads in office, no matter what. There is no noble purpose, no moral justification, no principle at stake. There's just a big potential payday for Ackerman and his employer, Nossaman. And if you don't understand that, you don't know Dick.
Stay tuned for Part 2, in which we share a little Dick Ackerman retrospective.