Tuesday night's city council meeting includes an agenda item asking the council to approve transferring all assets owned by the Fullerton Redevelopment Agency to the City of Fullerton.  Agenda item number 12 asks the city to take ownership of a soup to nuts inventory of everything the Redevelopment Agency has been using our bond money to buy for the last few decades.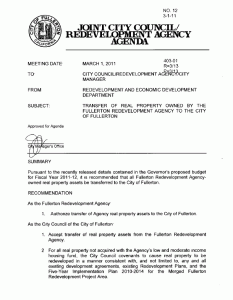 In an urgent sounding letter to the council Acting Redevelopment Director Romona Castaneda explains that the council may only have a few weeks to move these assets from one pocket to the other if the state adopts Gov. Brown's budget plan to eliminate redevelopment agencies.  If this happens, it seems, the agency will be forced to sell the properties "expeditiously" and turn over the proceeds to the county.
One has to wonder what would happen if Redevelopment was indeed forced to sell all eighty of its properties, including the Fox Theater, the empty lot where four craftsmen era houses were torn down just east of it, Union Pacific Park, the site of Costco, a 2001 Chevrolet Malibu (?),  the Santa Fe Depot, and some fencing around the Police Department.  It's a fun list.
The city would still be required to move forward with projects already approved for these properties, including affordable housing projects.  Anybody have a guess about how legal this maneuver is?